Deep-Biotech: an umbrella that hosts our mission tracks
Explore new territories. R&D towards new applied research. Develop new products and outcomes to provide services to industries and end users.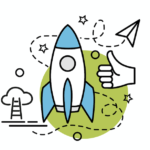 Bio-Explore
[Track-1]
Explore and develop new interdisciplinary R&D concepts, tied to applied use cases, covering market needs and gaps. Build new partnerships, consortiums, novel MVPs, products and services via Tracks 2, 3. Exploit outcomes in business development opportunities.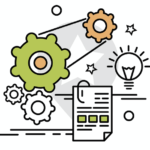 R&D, Products
[Track-2]
Basic and applied research development towards novel MVPs/PoC, products within state-of-the art science and technology in computational biology and deep-learning.
Outcomes: "DeNViS", Deep Neural Virtual Screening for drug discovery.
Services, R&D Consulting
[Track-3]
Develop and deliver software engineering, production-level outcomes, publications, customised studies, tailor built solutions and consulting services to pharmaceutical, biotech-like industries.
More information soon.
Pipeline: Explore, R&D, Business Exploitation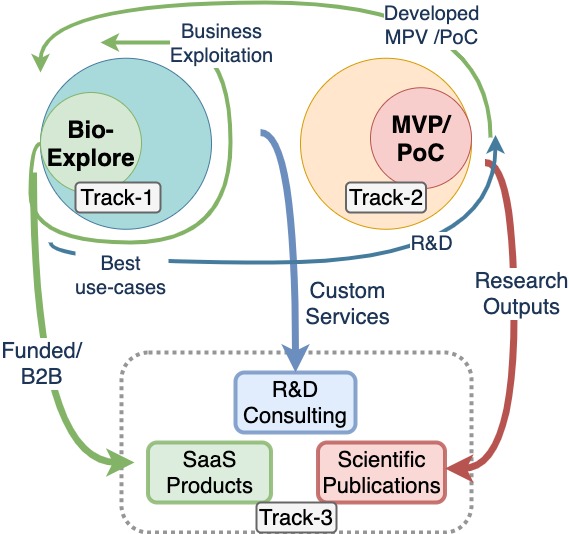 First concept

High-level motivation and brainstorming led to the initial drug discovery concept; after research we decided to focus on high-throughput virtual screening via structure-based protein-ligand affinity prediction.

R&D Self-funded Project

Form ML-Team; +new bio-engineer hiring; ongoing R&D work; production-level engineering scale up. 

JEDI Grand Challenge submission

Successful fast screening of 1B molecules; submission of ranked compounds to the JEDI Grand challenge international effort against covid-19 related proteins.

R&D, Networking

Virtual screening R&D cont'd
Initiate single cell multi-omics tracks
Develop research project proposals and networking with pharma/biotech companies.

Bio-Explore

Bio-Explore concept and framework formation [Dec., 2021].
New bioinformaticians/bio-explore team [Jan., 2021].
Project kick-off [Feb., 2021].

Positive Outcomes, +Business

JEDI positive feedback: deeplab is within 20-top finalists; molecules are to be screened in wet lab.
New strategic health market and business lead position.

Upcoming potential

Submit Virtual screening product (DeNViS) business proposals on open funding calls (EIT, Bio-Tools) [May, 2021].
Technical report on Virtual Screening manuscript ready for publication.
Single-cell multi-omics 2nd cycle proposals with pharma industry [May, 2021].
Website goes live [Jun., 2021].